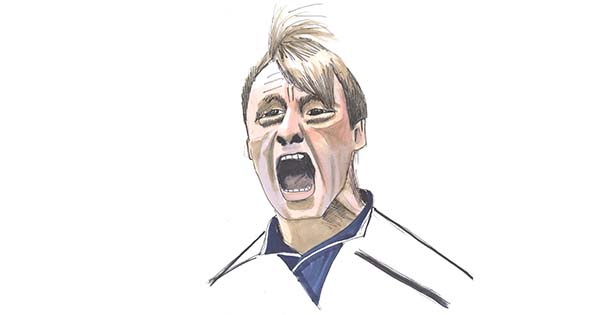 Stuart 'Psycho' Pearce was one of the most patriotic players ever to grace the England team and although his passion was always inspiring, it could have a funny side as he tried to fire up his teammates.
It involved blaring punk rock music and a rousing but factually dubious call to arms for his players.
No one who watched Pearce play for his beloved England could doubt his passion and commitment.
This was crystalised forever in the most amazing scenes where he roared with relief and joy after scoring in the penalty shoot-out against Spain at Euro 96. It was a release of the tension he'd harboured for six years after he missed in the penalty shoot-out in the World Cup shootout against Germany in 1990.
Pearce's expression as he turned to celebrate with the England fans is one of the game's most motivational and inspiring images.
This passion and patriotism wasn't confined just to England games. It spilled over into Pearce's club football with Nottingham Forest.
Former Forest manager Frank Clark has talked about how one of his main priorities after taking over at the club in 1993 was to persuade Pearce to stay. This was a big problem because Forest had just been relegated to the old First Division and Pearce was worried that might affect his chances of playing for England again.
The problem was made even more difficult because some of Forest's other star players like Roy Keane and Nigel Clough had already decided to leave.
Thankfully for Forest fans, Pearce was very loyal to Forest because the club that had given him his big break in football. In return he had become its most popular player ever.
Clark managed to reassure Pearce that one year in the First Division wouldn't affect his England place and he agreed to stay for at least one season.
It worked out spectacularly well. Forest bounced straight back up into the Premier League and finished third in their first season, all the time driven on by some special 'psychotherapy'.
This came to the fore the following season when Forest had a great run in the UEFA Cup, beating teams like Auxerre and Lyon, who were technically more gifted but lacked the passion of the Pearce inspired Forest.
In his book, Kicking With Both Feet, Clark describes how Pearce motivated his team.
"Minutes before an important European match, my captain Stuart Pearce is in the dressing room shaking his fists and screaming at the rest of the players.
"He's been listening to his punk rock music and he's all psyched up.
"Sitting in front of him is an array of different nationalities: Dutch, Norwegian, Italian, Scottish, Welsh, Irish. Pearce is shouting at them all, explaining why we're better than the French opposition and why we're going to win.
He punches the air. 'Because we're English,' he screams. "Because we're English."
The factual inaccuracy of the statement doesn't seem to occur to Stuart. I'm not sure if it occurred to his Norwegian, Dutch, Italian, Scottish and Welsh team-mates but if it did, none of them seemed in a hurry to point out his mistake.
"In fact, from the nervous look on their faces, a few of them might have been considering changing nationality."
However, unorthodox and strictly speaking inaccurate, Pearce's rallying calls seemed to work wonders.
Even most Forest fans would agree that that Forest overachieved in Europe during that 1995/96 season with narrow wins over Auxerre and Lyon, who both had most of the play and were technically superior with players such as Laurent Blanc and Ludovic Guily in their ranks.
But technique isn't everything, as the old fashioned English bulldog spirit of Pearce showed.
Forest's brilliant run finally ran out when they were outclassed at home by the star-studded Bayern Munich side that included Jurgen Klinsmann, Lothar Matthäus and Jean Pierre Papin. Bayern won 5-1 on the night and 7–2 on aggregate.
The Forest fans still appreciated that the Pearce inspired side had given everything and stayed with them, chanting 5-1 down and still in Europe right up to the final whistle.
Pearce remained a Forest icon even after leaving to play for Newcastle and then Manchester City.
When he returned with City to play against Forest, he wasn't booed as often happens with former players. Instead, he was given a standing ovation by the Forest fans. It was a fitting tribute for a player who always gave everything for the cause.